We've had a lovely surprise – nursery & gardening specialists' Thompson & Morgan learnt of our Bicester in Bloom 2012 successes and chose to blog about Ground Level Gardening. 
WOW – great recognition!!
We're actually very happy customers of Thompson & Morgan (T&M) – but we would say that now wouldn't we??  However, having ordered somewhere in the region of 1,000 plants from this particular supplier in the last 12 months, it is with some experience.  Here's a part of what our home grown nursery looked liked in May this year.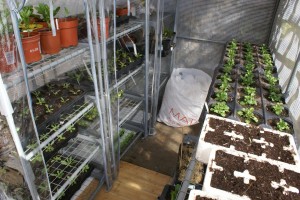 Despite the atrocious weather conditions, with record rainfalls in April, followed by yet more rain in June, T&M's specimens came through strongly with only a tiny amount of wastage. The displays created with annuals did very well, considering….lol……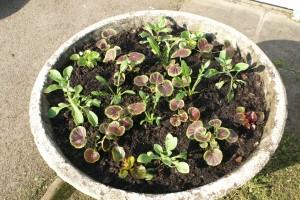 …..while the 'early-door' perennials here at home did better than expected and are set to flourish to their full capacity next year.
 I'm already planning my orders now for next year's gardens when it comes to bedding, basket & container plants…….but first it's bare root plants, ideally 'grounded' at this time of year.
A good mix of well-rotted horse manure along with a deep dig over the borders can produce spectacular results in the next 12 months.
If there's something we can do for you, bare root plants now, or planning for next year, please get in touch.